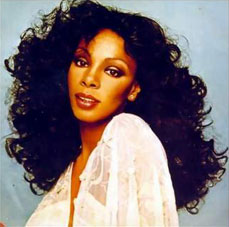 Donna Summer was born La Donna Gaines, one of seven children in Boston.  She was raised in Dorchester and attended
the Jeremiah E. Burke High School where she performed in school musicals and in church.  Just weeks before graduation,
Summer left for New York to begin her musical career.
Her first big hit was "Love to Love You Baby" which reached #2 on the U.S. Billboard Hot 100 in early 1976.
If you're like me, in the "70's  you remember dancing under the disco ball to "Bad Girls", "Last Dance" and "Dim all the lights"
My personal favorite was slow dancing to "MacArthur Park" with my crush of the week.
Donna Summer received  twelve  Gold Singles, six American Music Awards and five Grammy Awards.
She became a cultural icon and influenced such pop divas as Madonna and Beyonce.  Her songs are still sampled today.
If you are a fan or need a refresher, stop into the library and check out a CD such as "Bad Girls" or the "Donna Summer Anthology"  Summer also authored an autobiography entitled "Ordinary Girl; The Journey" located on the second floor in the Biography section.